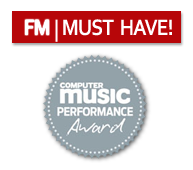 AAX/AU/VST2/VST3 PLUGIN for Windows and MacOS
Current Version : 1.1.0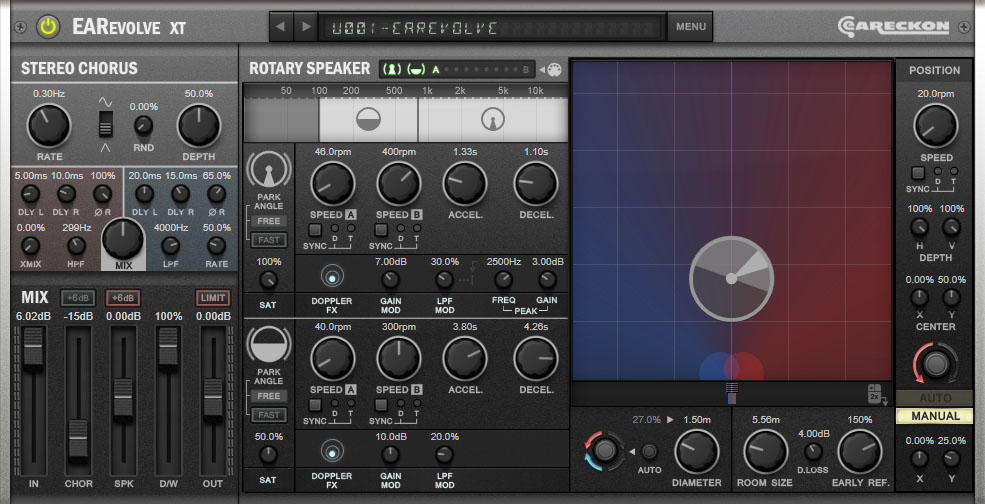 ---
REVIEWS AND TESTIMONIALS
"Its liberating toolset and well calibrated controls let you get hands-on with a beautifully modelled rotary speaker on two levels, and the endless multi-orbital, multiband possibilities are as fun to explore as they are creatively rewarding. And let's not forget the similarly flexible and wonderfully analogue-sounding chorus, the silky smooth pitching and rich, luscious sound of which bring another layer of sonic activity to the party.
It's a brilliant combination and another must-have from eaReckon."
- Computer Music Magazine (issue 262) - Performance Award - 9/10
"Too much you say? Well, if you're just using it to give a synth part a little more depth, then maybe so - but if you're using EARevolve on a significant element of a track, it's a must-have."
- Future Music Magazine (issue 336) - FM|Must Have! - 9.7/10
"EARevolve is more than just a rotary speaker simulator. It is a brilliant chorus plugin, a versatile stereo widener, a fantastic element positioning tool for your mix and of course it is a rotary speaker simulator.
It may not be the plug-in that you use on every single track, but if you want a big wide mix with a great sense of space then there is nothing better than EARevolve."
- AdmiralBumbleBee.com - "My favorite plug-in of 2018 - EARevolve"
---
DESCRIPTION
EARevolve is the combination of a stereo chorus and a (mono to stereo) rotary speaker.
All-in-one, this plug-in is a flexible tool that adds depth and/or controlled movement to your sounds.It is particularly efficient when you want to turn a mono signal into a dynamic and deep stereo sound.
---
STEREO CHORUS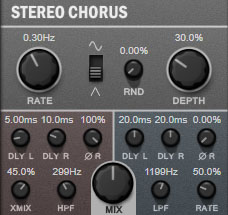 A stereo chorus is a very efficient way to give stereo width to a mono sound (or to enhance it when the source is stereo).
When using a chorus with stereo width in mind, musicians usually want to avoid the sense of movement between the left and the right channels that could be introduced by the effect.
It is not uncommon to hear that a good stereo chorus is the one that you just "forget" until someone turns it off. This kind of chorus effect voluntarily limits the sense of movement and generates a nice stereo depth.
Even though EARevolve's stereo chorus is able to do this, it does not limit you to this single application. It gives you flexibility, by adding a nice amount of selected parameters - to help you to go further with your chorus experimentations.
---
ROTARY SPEAKER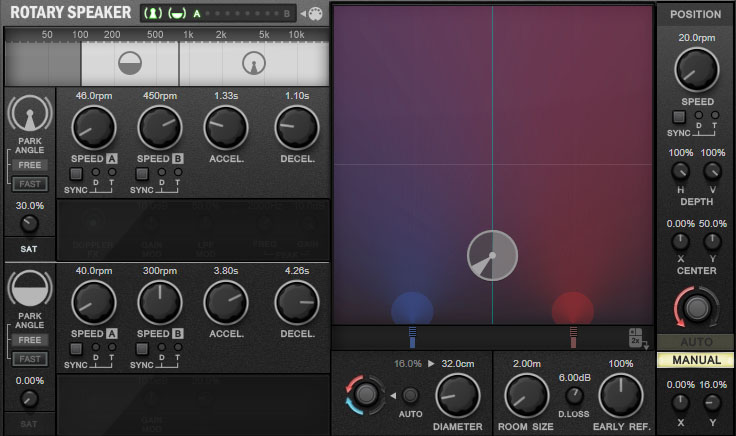 A rotary speaker obviously generates a sense of movement that is not limited to a simple panning.
The Doppler effect, natural filtering and level variations provided by the rotation of two parts, form a complex modulation effect. If we add the characteristics of the room, the position of the microphones and the position of the cabinet itself, we start to get quite a number of parameters to consider.
A logical choice could be to limit the number of parameters available to musicians and technicians, by limiting ourselves to the reality of a hardware rotating speaker. Limiting the number of parameters is also an excellent option if we want to let everyone easily control the effect for the musical use it was formerly intended for.
But...
What else could we obtain from it if we could freely manipulate the angles of both the horn/drum parts and even the location of the cabinet itself, from a remote control, like controlling a drone?
Why not control the affects of these movements on the sound, forgetting about physical reality, and use them to our musical advantage?
Finally, why not synchronize all of this to the tempo of our music, or automate the whole thing?
These are the questions that led to the choice of flexibility for the rotary speaker part of EARevolve.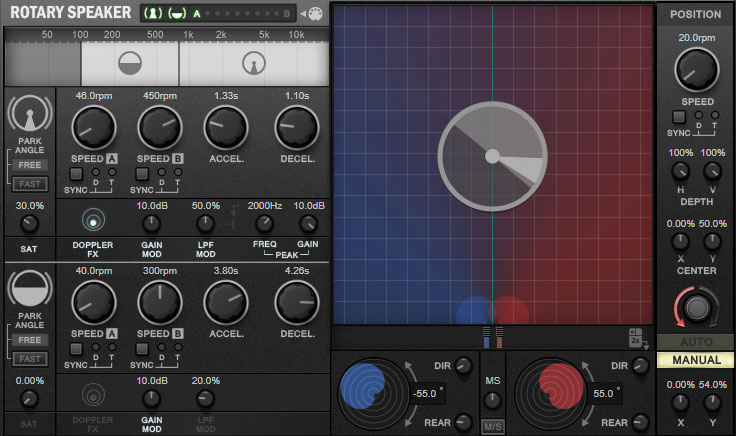 ---
ADVANCED CONTROL

That said, my intention was not to provide a laboratory tool but a plug-in which is usable in a musical or a multimedia context. The primary goal was to provide a creative modulation effect and not a 100% faithful emulation of an existing device or a realistic positioning tool.
Considering all these aspects, it was therefore important to create an interface which provides enough controls while not being overly intimidating.The controls that have been implemented are not there only to look pretty. Each of them has a role, which you will quickly discover.If you don't want to be visually overwhelmed by too many controls, it is still possible to use it the easy way, by hiding the advanced settings, loading a preset and adjusting it with a limited set of essential controls...
until you feel it's time to go further with the plug-in's capabilities ;-)